Transform Your Bathroom into a Elegance Bohemian Haven
The Bohemian style, also known as boho-chic, is a design trend that has gained immense popularity in recent years. Known for its eclectic mix of patterns, textures, and vibrant colors, Bohemian style embraces a free-spirited, relaxed aesthetic. This unique style has the power to infuse any space with warmth, character, and an artistic vibe. In this article, we will explore how you can transform your bathroom into a bohemian haven, creating a serene and stylish retreat within your home.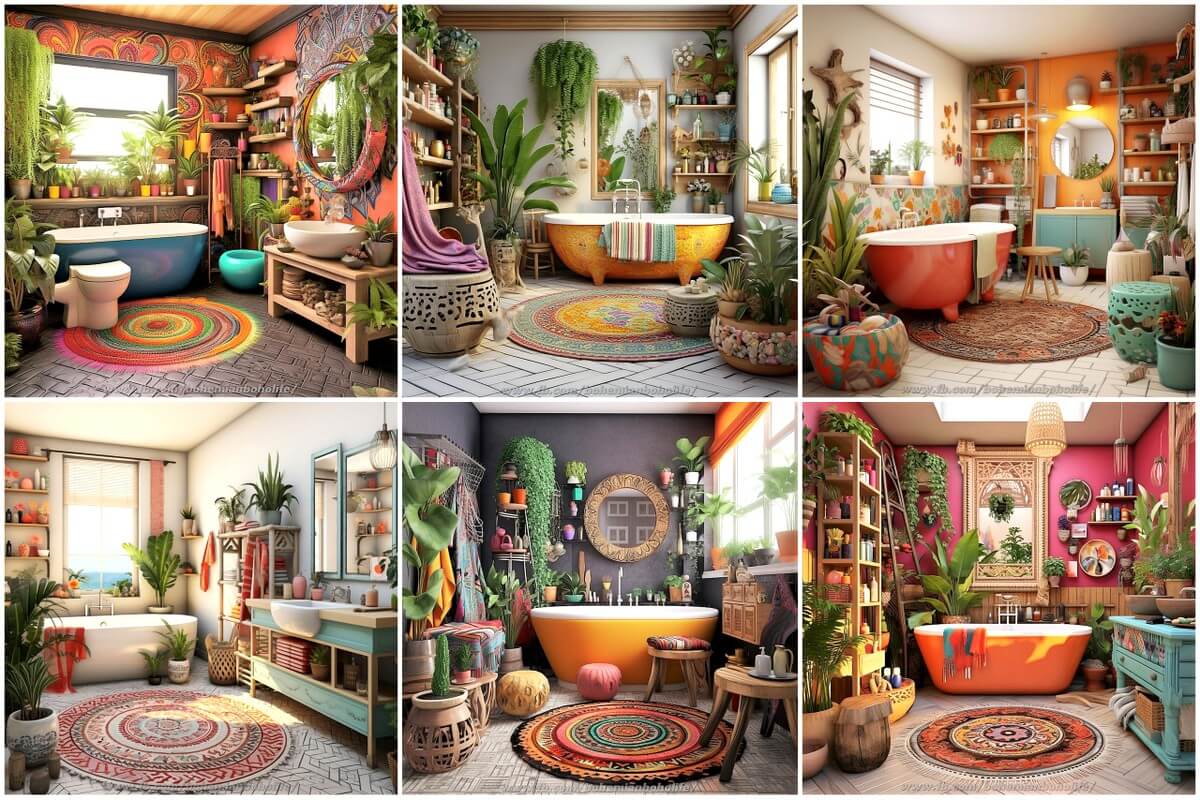 Colors and Materials:
One of the key elements of bohemian style is its rich and diverse color palette. To create a bohemian bathroom, opt for warm and earthy tones such as deep blues, warm oranges, burnt siennas, and olive greens. These colors can be incorporated through wall paint, tiles, or accessories.
When it comes to materials, embrace natural elements like wood, stone, and rattan. Consider using reclaimed or distressed wood for vanity cabinets or shelving units to add a rustic touch. Wicker baskets and bamboo accents can also contribute to the bohemian ambiance.
Patterns and Textures:
Bohemian style is all about mixing and layering various patterns and textures. Incorporate bold prints such as paisley, floral, or ikat through shower curtains, rugs, or wallpaper. Experiment with different textures, such as fringed towels, macramé wall hangings, or intricately woven bath mats.
To enhance the bohemian feel, add textiles like vibrant Moroccan rugs or kilim carpets to the floor. These rugs not only provide visual interest but also add warmth and comfort to the space. Don't shy away from combining multiple rugs for an eclectic and cozy feel.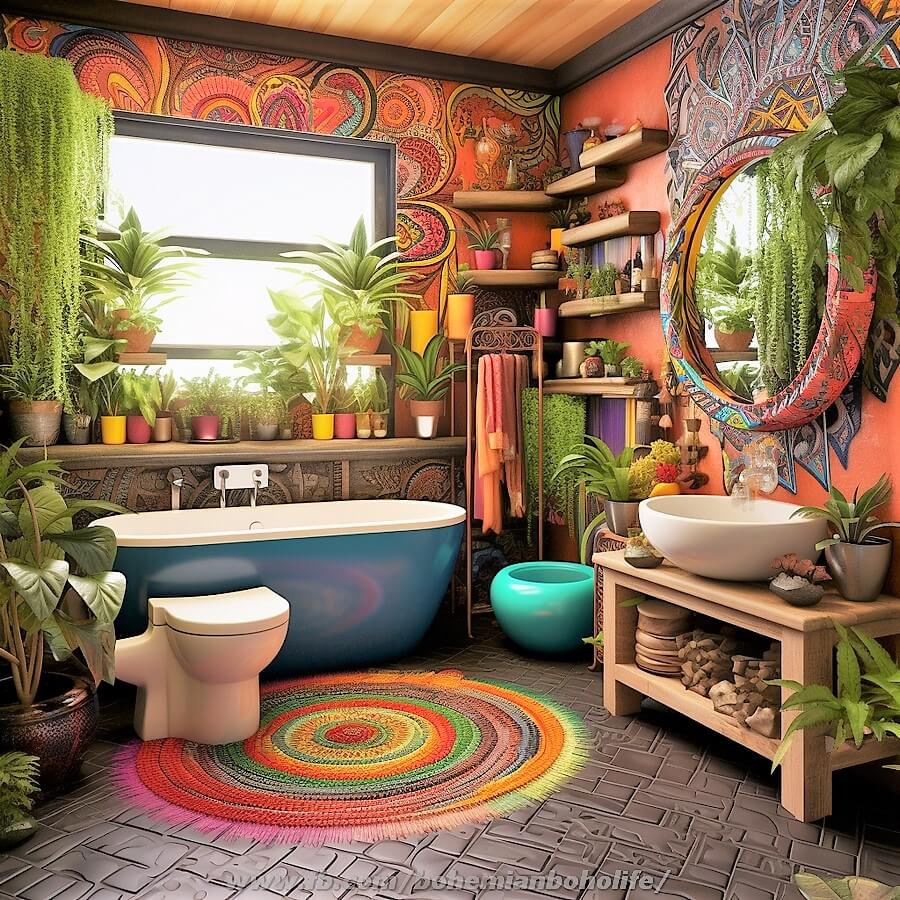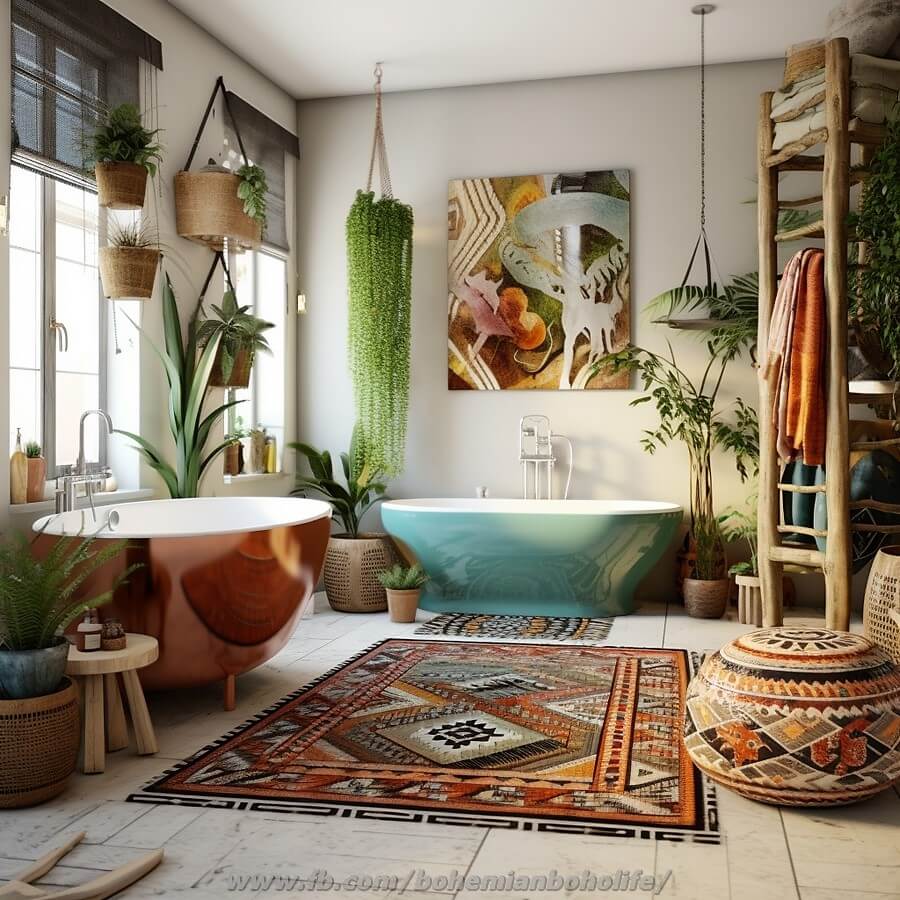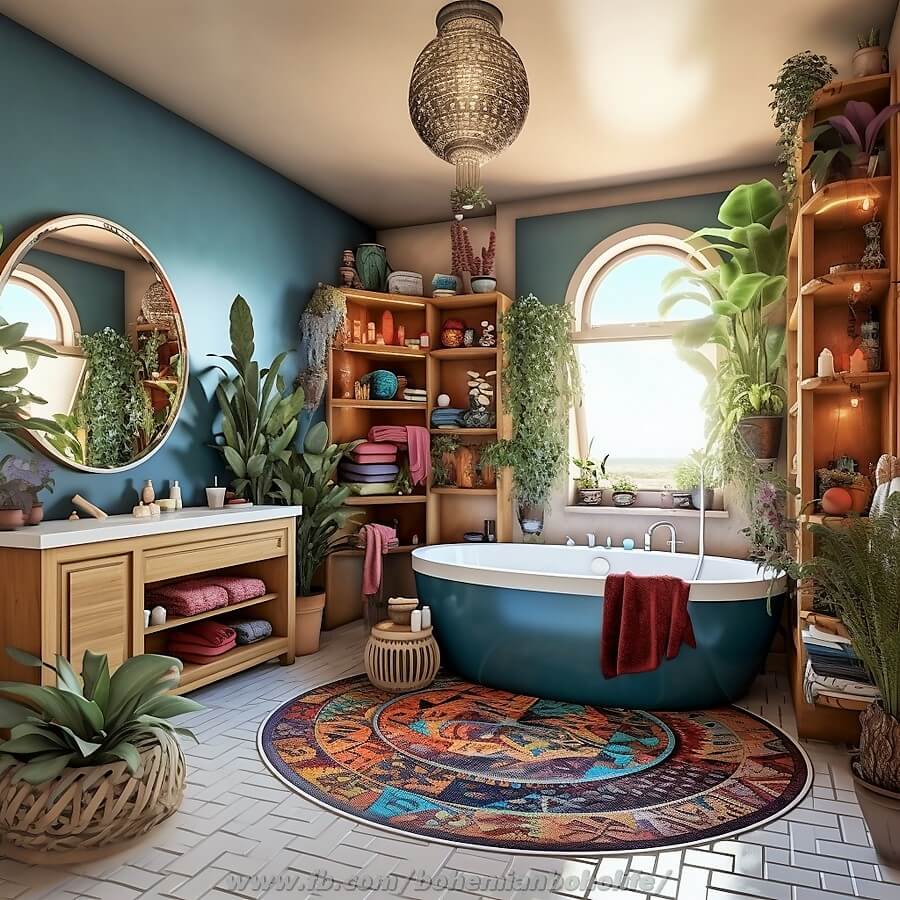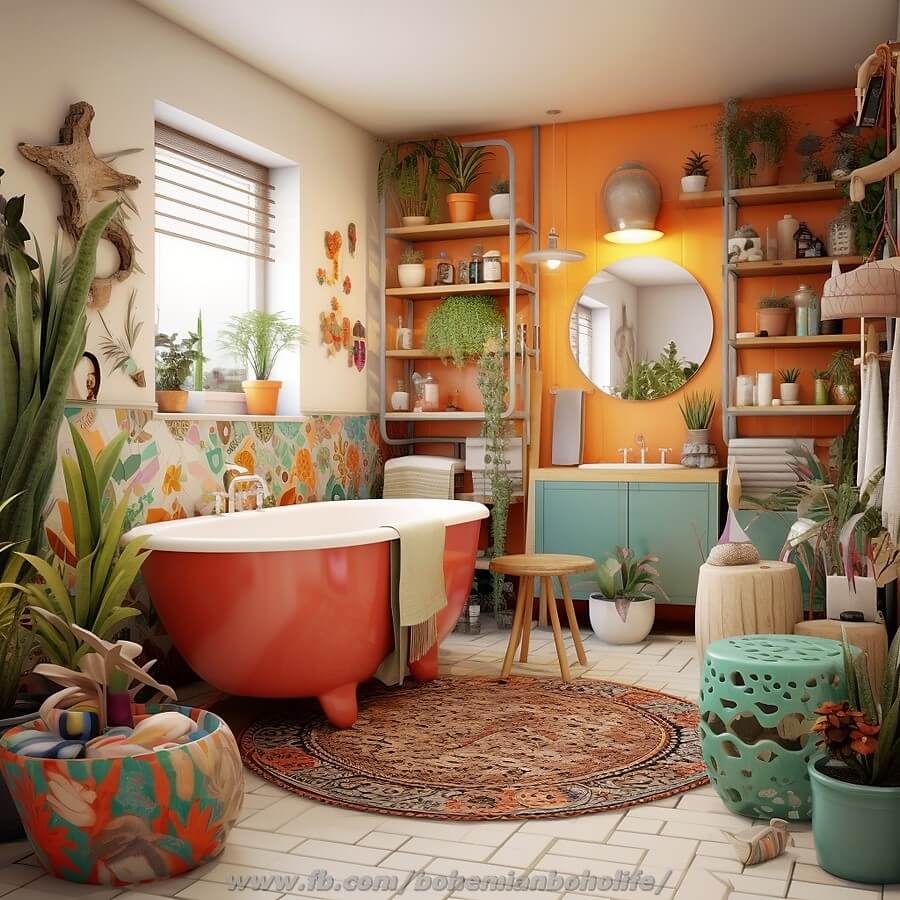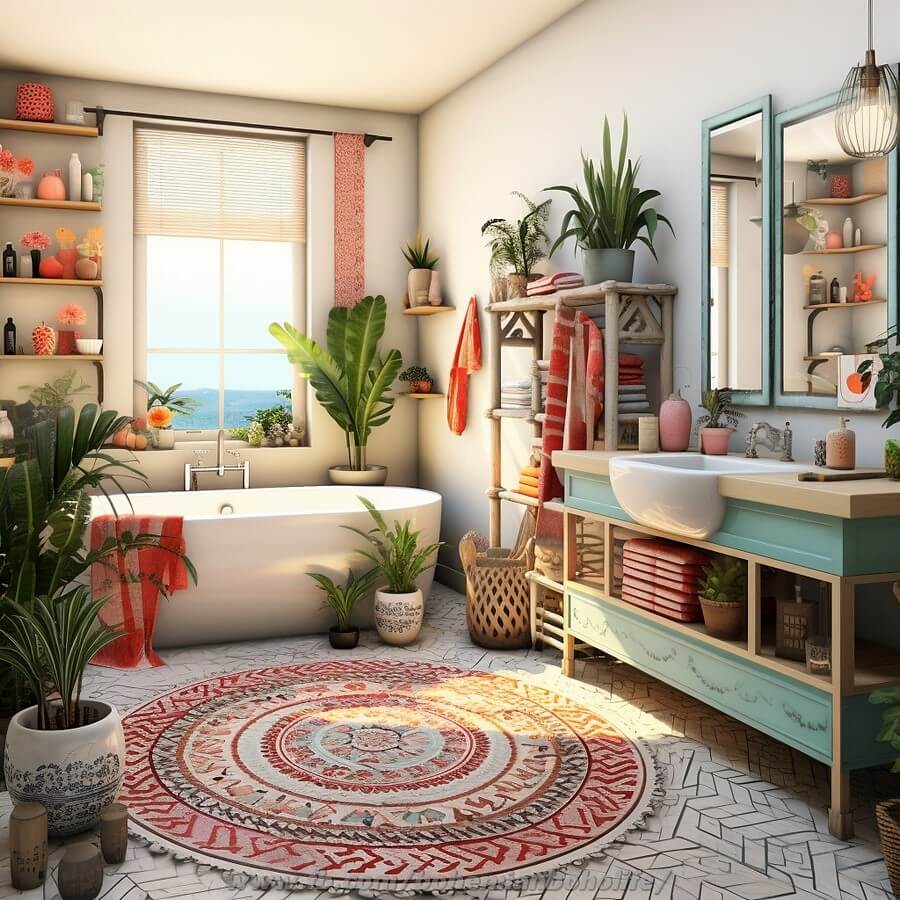 Art and Accessories:
Bohemian style celebrates art and personal expression. Incorporate artwork that reflects your individual taste and adds a touch of cultural diversity to your bathroom. Consider hanging vintage paintings, tapestries, or even your own DIY artwork to create a unique focal point.
Accessorize your bohemian bathroom with an assortment of trinkets and curiosities. Display small potted plants or succulents to bring a natural element to the space. Fill open shelves with decorative jars, candles, and handcrafted ceramics. Vintage mirrors with ornate frames can also add a touch of elegance and reflect light, making the space feel larger.
Lighting and Greenery:
Lighting plays a crucial role in creating a bohemian atmosphere. Opt for warm and soft lighting options, such as string lights, lanterns, or dimmable wall sconces. These lighting fixtures will contribute to a cozy and inviting ambiance.
Introduce greenery into your bohemian bathroom to bring life and freshness to the space. Place potted plants, such as ferns, spider plants, or peace lilies, on window sills, shelves, or corners. Hanging plants, like pothos or ivy, can be suspended from the ceiling or mounted on hooks.
By incorporating the principles of bohemian style into your bathroom, you can transform it into a sanctuary that is both stylish and tranquil. Embrace a vibrant color palette, experiment with textures and patterns, and adorn the space with art and accessories that reflect your personal style. With warm lighting and the addition of greenery, your bohemian bathroom will provide a relaxing and inviting atmosphere that transports you to a world of creativity and serenity. So, let your imagination run wild, and create a bohemian haven that will make you fall in love with your bathroom all over again.