Embrace Bohemian Chic: Inspiring Living Room Decor Ideas
Bohemian style, often referred to as "boho," is a captivating design approach that celebrates individuality, creativity, and a free-spirited lifestyle. When it comes to creating a bohemian living room, the possibilities are endless. This eclectic style embraces a mix of patterns, textures, colors, and cultural influences, resulting in a space that exudes warmth, comfort, and a sense of wanderlust. In this article, we will explore a plethora of bohemian living room decor ideas that will help you infuse your space with charm, character, and a touch of whimsy. From furniture choices to textile selection, wall art to lighting, we will guide you through various elements of bohemian style, enabling you to create a truly unique and inviting living room.
Furniture and Layout:
Bohemian living rooms are characterized by relaxed and inviting seating arrangements that encourage conversation and comfort. When it comes to furniture, opt for low-slung seating options like floor cushions, poufs, and oversized sofas. Consider incorporating vintage or thrifted pieces, such as a worn leather armchair or a repurposed wooden coffee table. Mixing and matching different furniture styles adds to the eclectic nature of bohemian decor.
To create a cozy and intimate atmosphere, arrange furniture in a way that encourages interaction. Place seating in a circle or semi-circle formation, allowing for easy conversation and a sense of community. Don't be afraid to experiment with unconventional furniture placements, such as placing a chaise lounge by a window or incorporating a hammock for a unique seating experience.
Color Palette:
Bohemian style embraces a rich and vibrant color palette inspired by nature and global cultures. Earthy tones, such as terracotta, ochre, and deep greens, provide a grounding base for the room. Complement these hues with pops of bold colors like jewel tones or warm shades of red, orange, and pink. Integrate colors through textiles, accent pieces, and artwork to infuse energy and vitality into the space.
Consider incorporating a variety of patterns and prints to create a bohemian vibe. Tribal motifs, ikat prints, and intricate paisley designs are popular choices. Layering patterns through rugs, throw pillows, and curtains adds visual interest and depth to the room. Remember to balance vibrant patterns with solid colors to maintain a harmonious ambiance.
Textiles and Accessories:
One of the defining characteristics of bohemian decor is the abundant use of textiles. Create a sensory feast by incorporating a diverse array of textures like macramé, woven fabrics, crochet, and knits. Hang tapestries or patterned curtains to add drama and create a focal point. Layer rugs of various sizes and patterns to create a cozy and inviting floor space.
Bring nature indoors by incorporating plants into your living room. Hanging plants in macramé holders, potted ferns, and cascading vines add a touch of freshness and contribute to the bohemian ambiance. Additionally, include natural materials like rattan, wicker, and jute in furniture and accessories to enhance the organic feel of the space.
Personalize your bohemian living room with an assortment of vintage and collected objects. Display unique artwork, travel souvenirs, and handmade crafts on walls and shelves. Antique mirrors, quirky sculptures, and eclectic wall hangings can further accentuate the bohemian vibe. Remember, the key is to curate a collection of meaningful items that tell your story.
Lighting and Ambiance:
Lighting plays a crucial role in creating the right atmosphere in a bohemian living room. Embrace natural light by keeping windows uncovered or using sheer curtains that allow sunlight to filter through. Enhance the warm and cozy feel of the space with soft, ambient lighting using floor lamps, string lights, and table lamps. Opt for warm-toned bulbs to create an inviting glow.
Consider incorporating Moroccan-inspired lanterns or pendant lights with intricate patterns to add a touch of exoticism. Candle holders and votives in various shapes and sizes can also contribute to the bohemian ambiance, creating a romantic and relaxed atmosphere during the evening hours.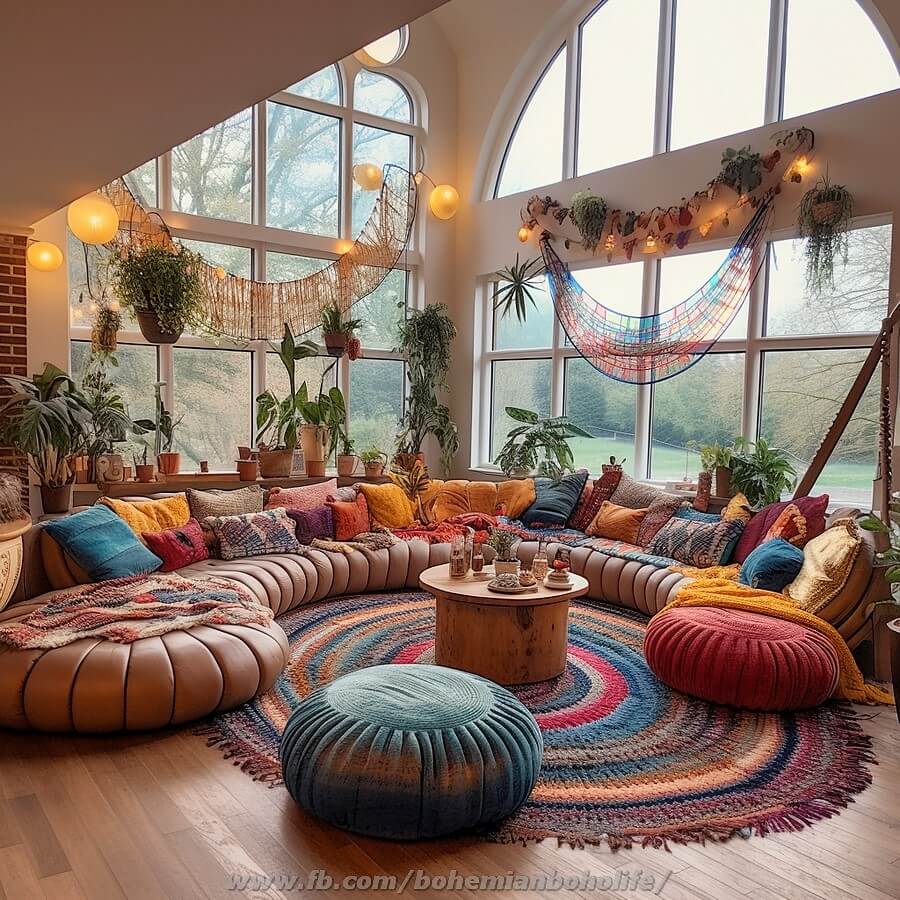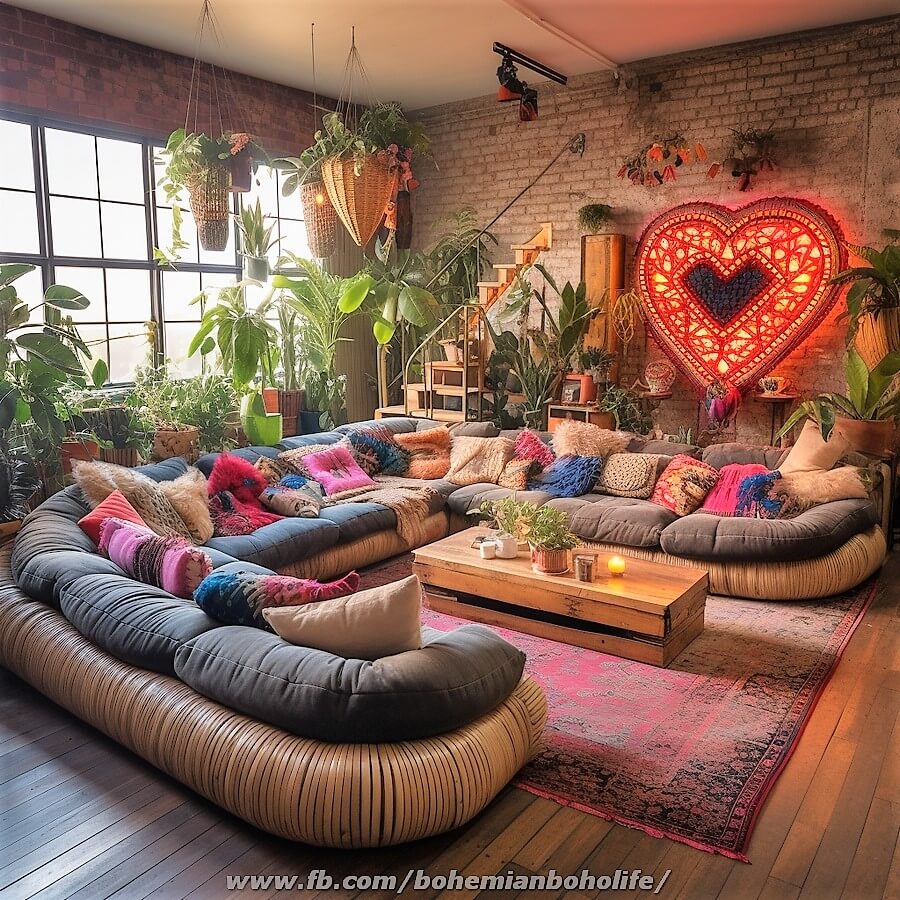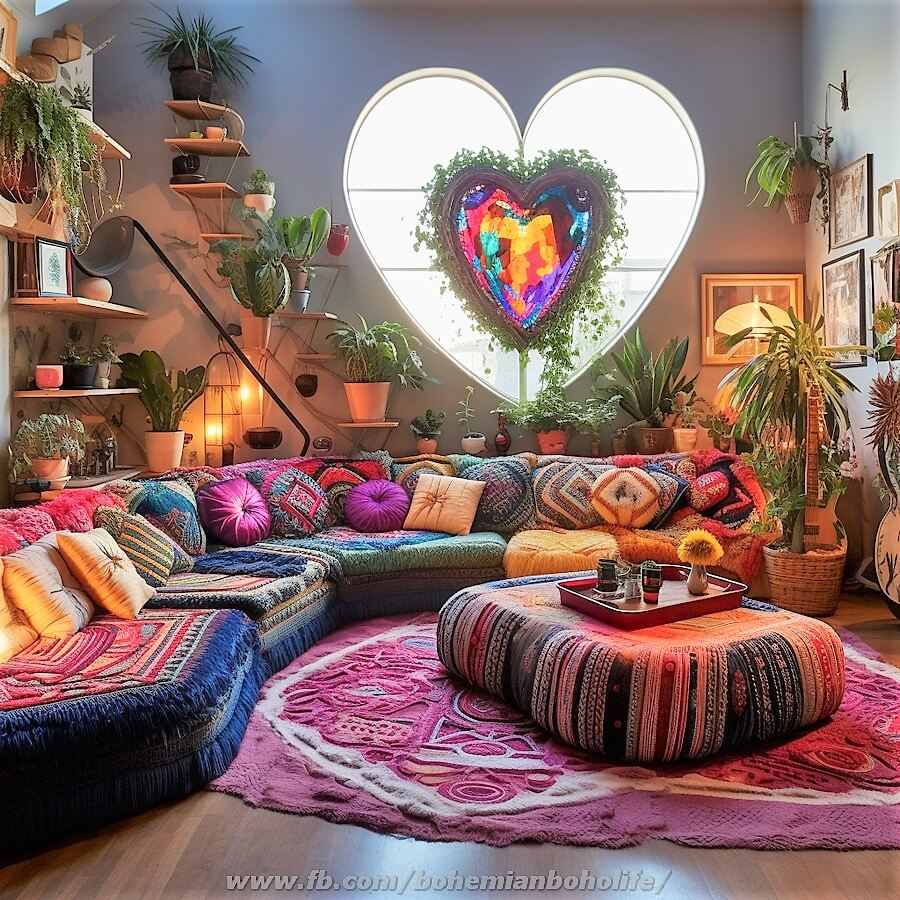 Wall Decor Ideas:
When it comes to wall decor in a bohemian-style living room, the key is to create a visually captivating and eclectic display that reflects your individuality and wanderlust. Here are some inspiring ideas to adorn your walls with bohemian flair:
Macramé Wall Hangings:
Macramé has become synonymous with bohemian decor. Incorporate large macramé wall hangings with intricate knot designs to add texture and visual interest to your walls. Opt for neutral tones or vibrant colors, depending on your overall color scheme.
Tapestry and Textile Art:
Hang tapestries or textile art that showcases vibrant patterns, tribal motifs, or psychedelic designs. These can serve as bold focal points on your walls, adding a sense of global influence and cultural richness to your space.
Gallery Wall of Artwork:
Create a gallery wall with an assortment of artwork that reflects your personal taste. Mix and match different art styles, such as paintings, sketches, prints, or even your own creations. Incorporate pieces with nature-inspired themes, dreamy landscapes, or abstract designs to evoke a bohemian aesthetic.
Vintage Mirrors:
Hunt for unique vintage mirrors at thrift stores or flea markets and hang them on your walls. The aged patina and ornate frames add character and a touch of nostalgia to your living room. Group mirrors of different shapes and sizes to create an intriguing display.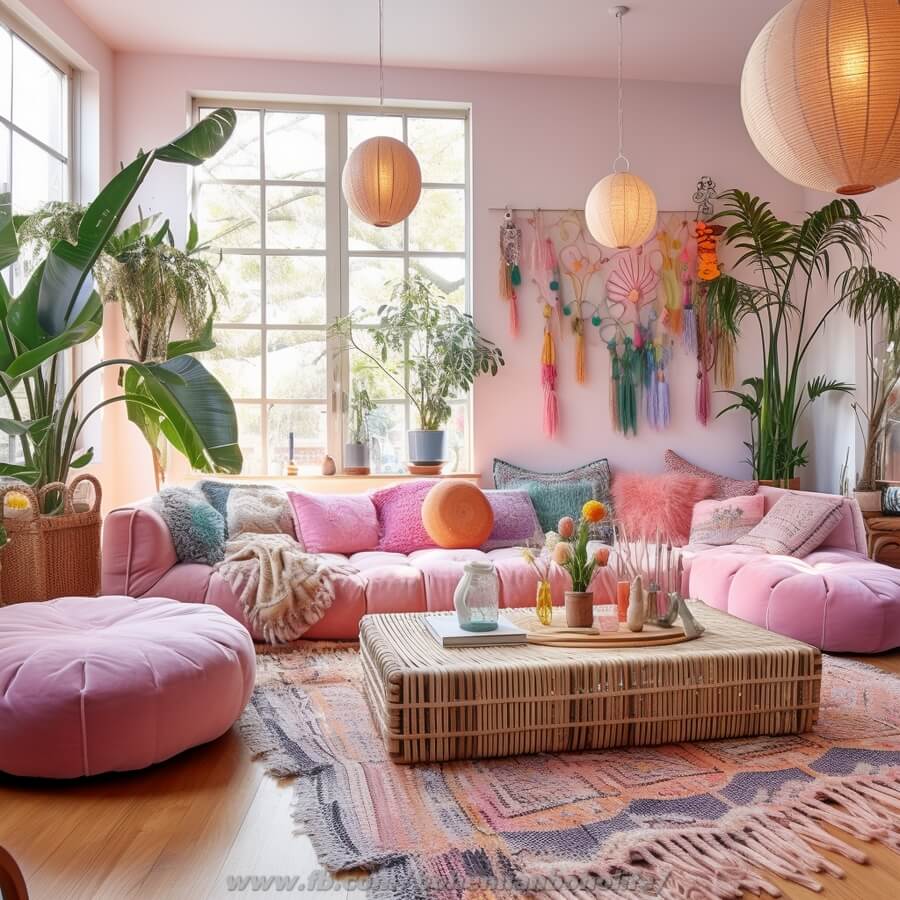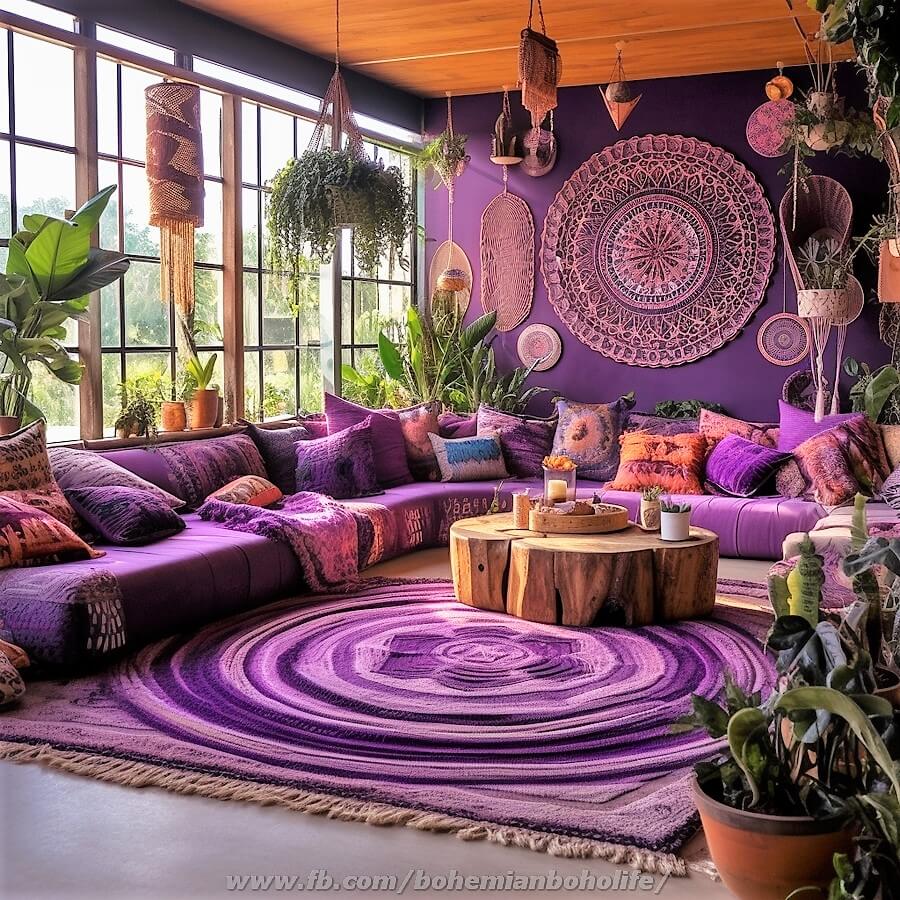 Woven Baskets as Wall Decor:
Hang woven baskets in various sizes and patterns to create a textural wall arrangement. They can add warmth, depth, and a natural element to your bohemian space. Mix and match baskets made from different materials, such as seagrass, rattan, or wicker.
Floating Shelves with Curated Objects:
Install floating shelves and adorn them with a curated collection of bohemian-inspired objects. Display travel souvenirs, vintage books, small potted plants, crystals, and quirky artifacts. Arrange them in an aesthetically pleasing manner, mixing heights, textures, and colors.
Dreamcatchers:
Incorporate dreamcatchers as wall decor to add a whimsical touch to your living room. Opt for handmade dreamcatchers with feathers, beads, and intricate web designs. Hang them individually or create a cluster for a captivating display.
Wall-mounted Plants:
Utilize vertical wall space by hanging wall-mounted planters. Choose trailing plants like pothos, spider plants, or string of pearls to create a lush and organic wall display. The greenery adds freshness and a natural element to your bohemian sanctuary.
Geometric Wall Art:
Consider incorporating geometric wall art pieces, such as metal sculptures or wooden wall hangings. These abstract designs add a modern twist to bohemian decor while maintaining an artistic and eclectic vibe.
DIY Wall Art:
Embrace your creativity and create your own bohemian-inspired wall art. Experiment with painting, collages, or mixed media techniques. Use vibrant colors, intricate patterns, and organic shapes to express your artistic vision.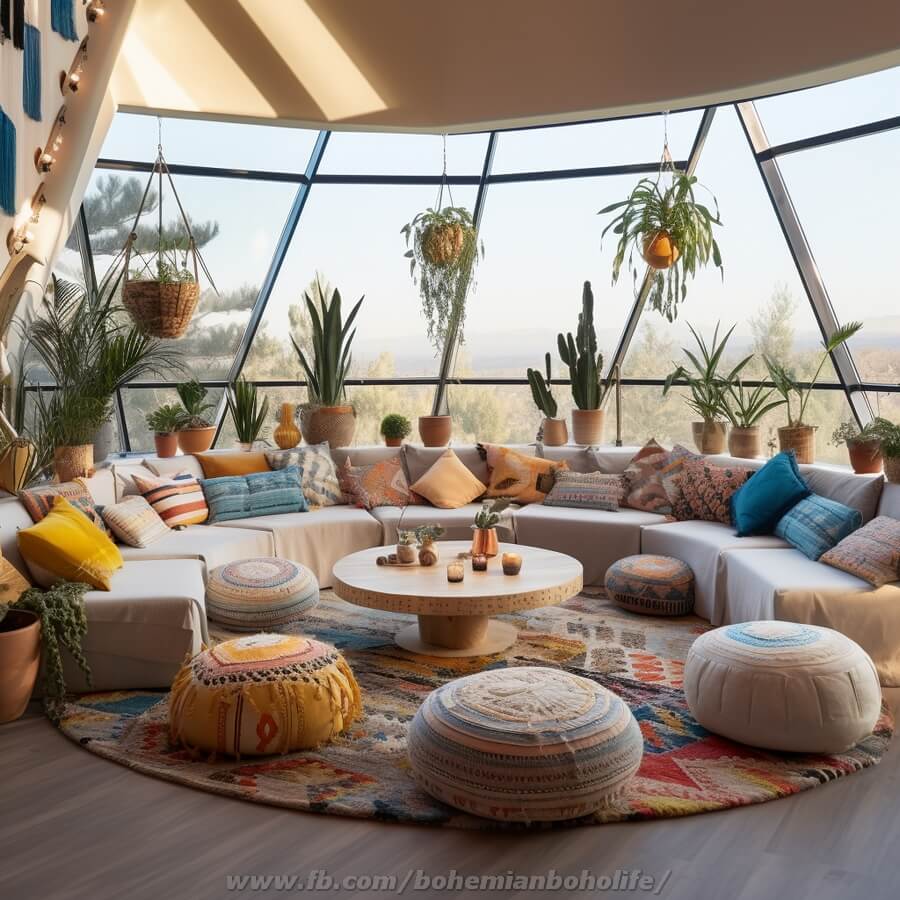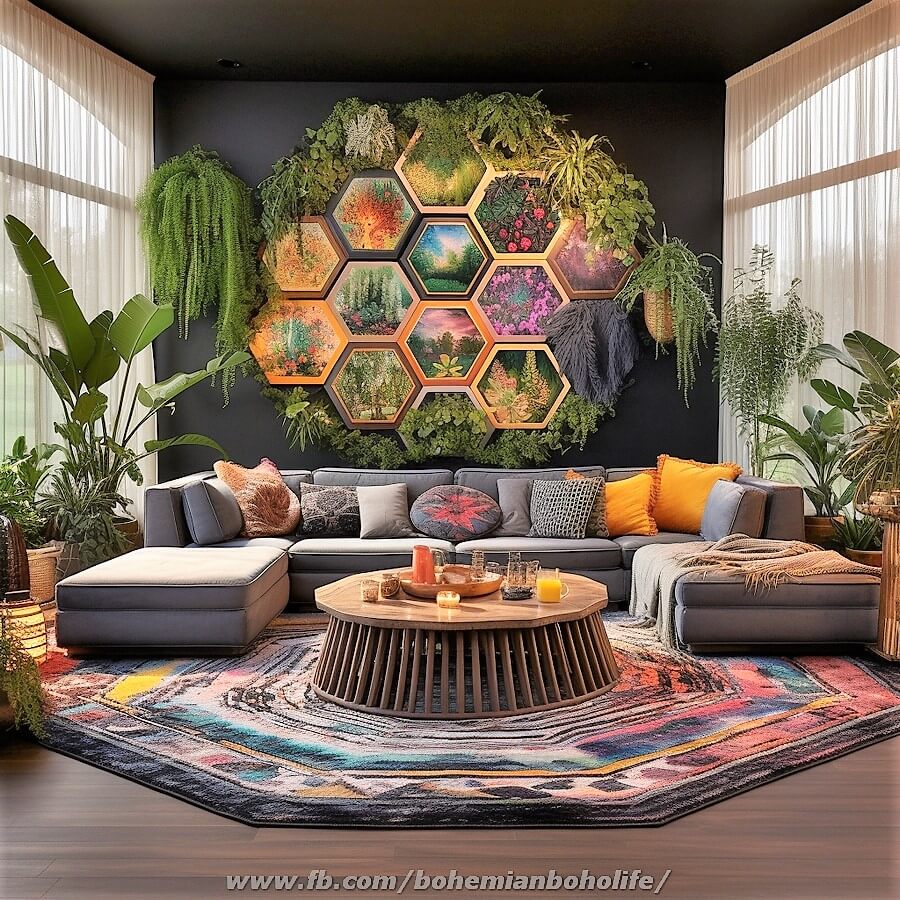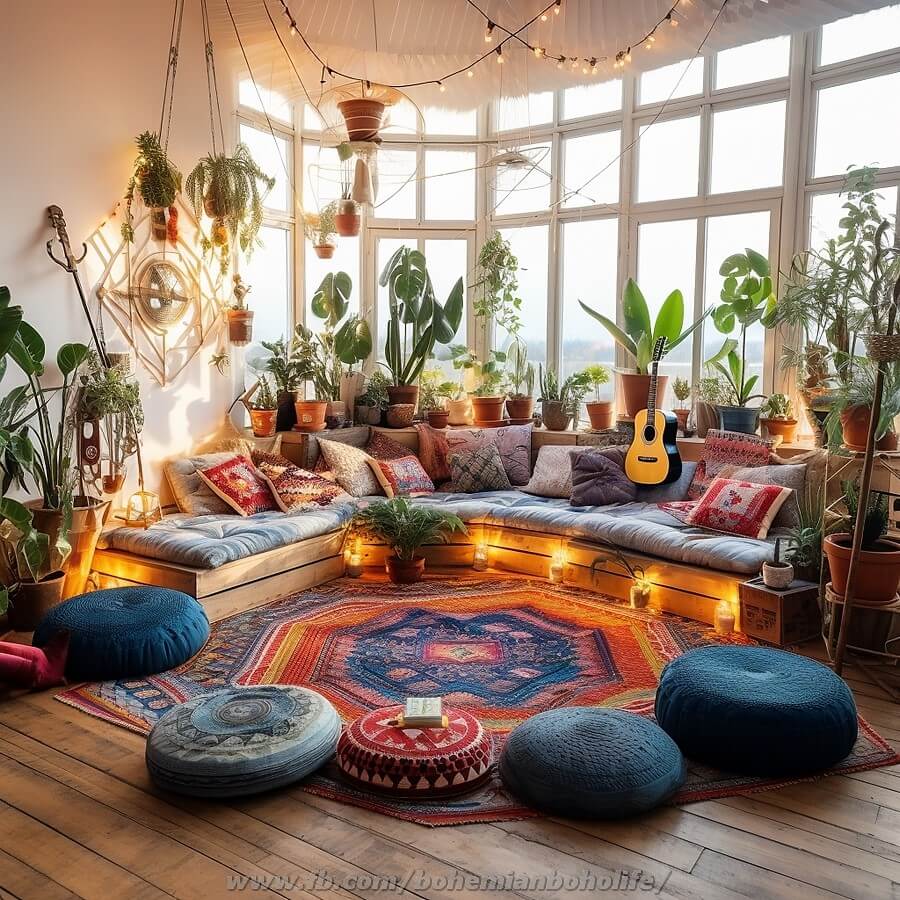 Creating a bohemian-inspired living room allows you to infuse your space with a sense of adventure, creativity, and individuality. By combining a diverse mix of furniture, colors, patterns, and textures, you can achieve a harmonious and inviting atmosphere that reflects your unique personality. Remember toembrace the spirit of bohemian style by incorporating personal touches and cherished items that hold sentimental value. So, let your imagination run wild, and embark on a journey of self-expression as you transform your living room into a bohemian sanctuary that inspires and delights all who enter.