Groovy Vibes in the Kitchen: Embracing Hippie and Boho Style Decor
The hippie and boho styles have captivated generations with their free-spirited, unconventional aesthetics. Known for their vibrant colors, eclectic patterns, and natural elements, these styles can bring a sense of warmth, creativity, and laid-back energy into any space. While the kitchen may be traditionally associated with functionality, it's also a place where personal style and self-expression can shine. In this article, we will explore how you can infuse your kitchen with the groovy vibes of hippie and boho style decor, creating a unique and inviting space that celebrates individuality and creativity.
Colors and Materials:
Hippie and boho styles embrace a wide range of colors inspired by nature and cultural diversity. To create a kitchen with a hippie and boho ambiance, consider using warm and earthy tones such as terracotta, deep blues, rich greens, and sunny yellows. These colors can be incorporated through paint, cabinets, countertops, or accessories.
When it comes to materials, opt for natural and sustainable elements. Consider using reclaimed or distressed wood for cabinets and shelving units. Incorporate handmade tiles with intricate patterns for backsplashes or countertops. Utilize organic materials like bamboo, rattan, or jute for light fixtures, bar stools, or window treatments.
Patterns and Textures:
Hippie and boho styles are all about embracing diverse patterns and textures. Mix and match patterns to create a visually dynamic and vibrant kitchen. Incorporate bohemian-inspired prints such as paisley, floral, ikat, or tribal patterns through textiles, wallpapers, or dishware. Experiment with different textures, such as macramé, crochet, or woven fabrics, for curtains, seat cushions, or table runners.
Consider adding a bold statement piece, such as a colorful Moroccan tile mosaic on the floor or a decorative painted accent wall. Alternatively, you can create a focal point with a large tapestry or a gallery wall displaying vintage artwork and photographs.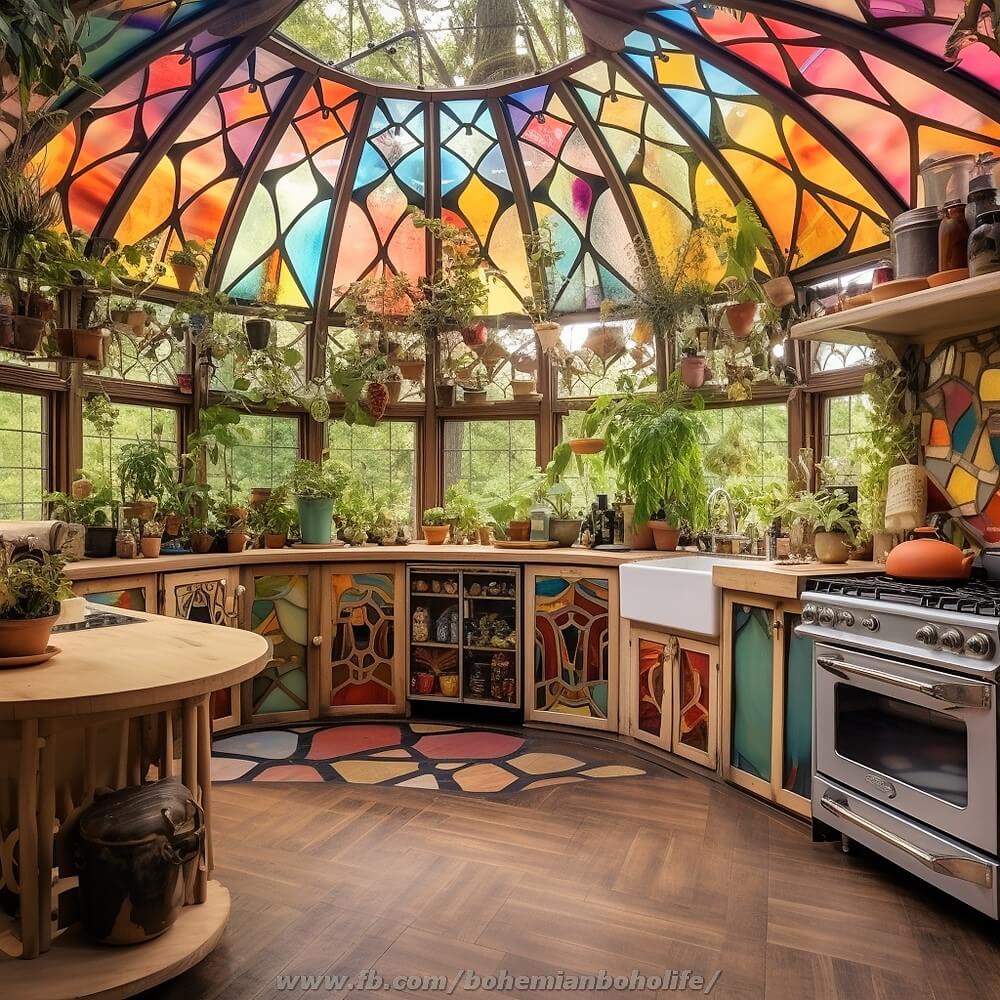 Open Shelving and Display:
One characteristic of hippie and boho style kitchens is the openness and casualness of the space. Replace some upper cabinets with open shelves to showcase your collection of vintage plates, bowls, and glassware. Arrange them in an artful and relaxed manner, allowing your personality to shine through.
Add natural elements to the display by incorporating small potted plants or fresh herbs on the shelves. Consider hanging woven baskets or macramé plant hangers from the ceiling to create a bohemian touch. These elements not only enhance the visual appeal but also provide functional storage options.
Lighting and Accessories:
Lighting plays a crucial role in setting the ambiance of a hippie and boho style kitchen. Opt for warm and soft lighting fixtures, such as pendant lights with woven or rattan shades, string lights, or vintage-inspired chandeliers. These lighting options create a cozy and inviting atmosphere.
Accessorize your kitchen with eclectic and meaningful items. Hang dreamcatchers or beaded curtains to add a whimsical touch. Display handmade pottery, colorful glass bottles, or vintage kitchen utensils on open shelves or countertops. Fill mason jars with dried flowers or herbs and use them as decorative elements. Consider incorporating a bohemian-style rug or a cushioned seating area for a relaxed and cozy dining nook.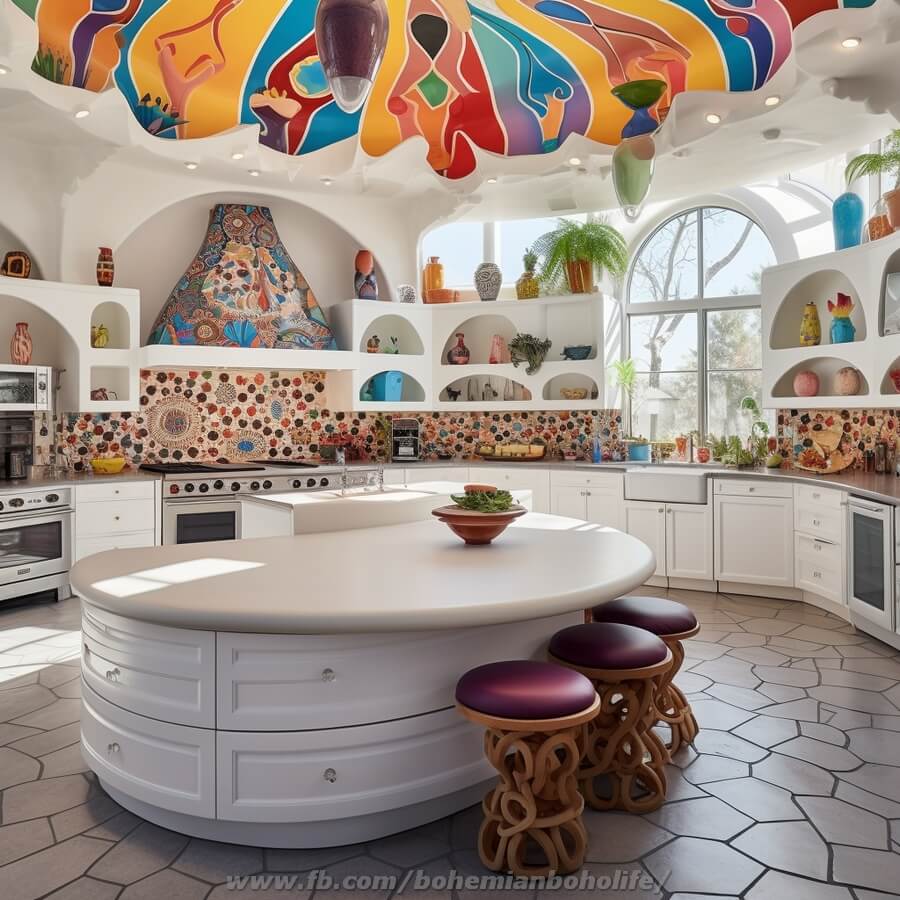 Sustainable and Ethical Choices:
Hippie and boho styles are closely tied to the ideals of sustainability and ethical living. Embrace these principles by making conscious choices when it comes to kitchen essentials. Opt for eco-friendly materials such as bamboo cutting boards, cork trivets, or organic cotton dish towels. Choose energy-efficient appliances and consider composting or recycling systems to reduce waste.
Support local artisans and fair-trade practices by purchasing handmade or ethically sourced kitchenware, such as ceramic bowls, wooden spoons, or handwoven textiles. These unique pieces add a personal touch to your kitchen while also promoting responsible consumption.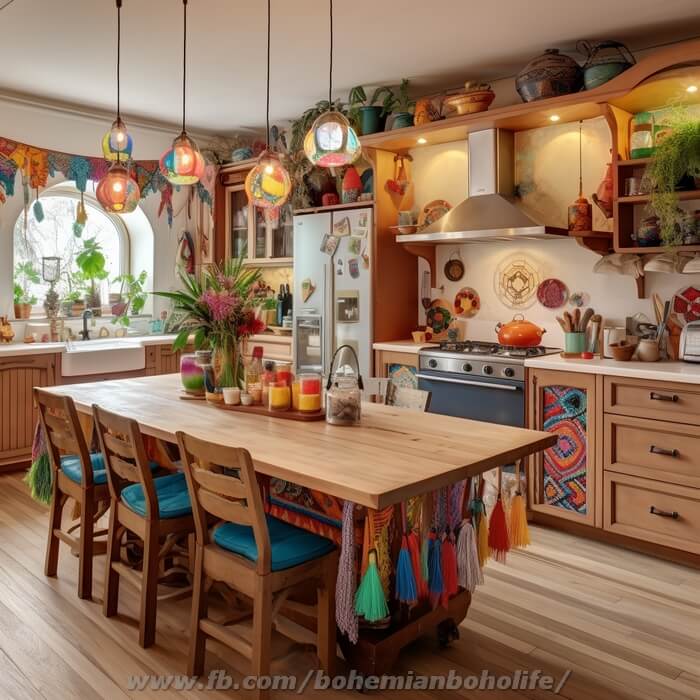 By infusing your kitchen with the vibrant and free-spirited aesthetics of hippie and boho style decor, you can create a space that is both visually captivating and soul-nourishing. Embrace warm and earthy colors, mix and match patterns and textures, and incorporate natural materials to bring a sense of bohemian charm to your kitchen. Open shelving allows for personal expression and creates an inviting atmosphere. Thoughtful lighting choices and unique accessories add the finishing touches to your groovy kitchen oasis.
Embrace sustainability and ethical practices throughout the design process. By making conscious choices, you can create a kitchen that not only reflects your personal style but also aligns with your values. So, let your creativity flow, and transform your kitchen into a haven of hippie and boho style that exudes positive energy and inspires a love for cooking, gathering, and enjoying the simple pleasures of life.